Welcome to the Fun Zone! From our beach house, within reaching or walking distance.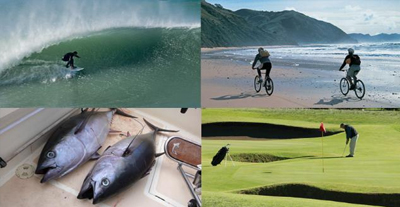 You can do all these things: Go surfing, go fishing, go diving, go crayfishing, go kayaking, go swimming, go sunbathing, play volleyball, go walking, go jogging, take a stroll at sunset, take another stroll at sunrise, have a barbecue, have a home-cooked gourmet dinner on the deck, have a tasty meal at the local bar, have a drink at the local bar, watch big screen sport at the local bar, read a magazine, read a book, listen to music, watch television, do yoga, meditate.
From our beach house, just a few minute's drive from the property, you can do all these things:
Go surfing at the next beach, explore a marine reserve, watch dolphins, observe penguins, dive with sharks, charter a fishing boat, explore vineyards, try local wines, buy fresh produce, enjoy great coffee, have a caf? lunch, view contemporary art, go kiteboarding, play golf, practise golf at a driving range, tour Maori cultural sites, take a vintage train ride, take a vintage pilot boat ride, have a restaurant meal.
From our beach house, making a day of it, you can do all these things:
Visit New Zealand's finest arboretum, walk the Tolaga Bay Wharf, walk to Cook's Cove, see the East Cape, visit Mahia Peninsula, bathe in thermal hot pools at Morere Hot Springs, see Lake Waikaremoana, slide down a natural rock slide, view waterfalls.
For more information visit GisborneNZ.