Gisborne Surf Scene
Welcome to Surf City!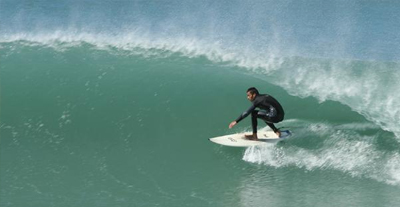 If you are keen on surfing, you've arrived in surfer's heaven! The best surf in New Zealand breaks all along Wainui Beach. And one of the best of all the breaks is right in front of our house. Gisborne's surf beaches have attracted surfers since the early 1960's. The coastline is open to ocean swells coming from north and south so you can usually catch a wave at one of the local beaches.
Wainui Beach is the most popular spot for surfers of all levels as it consistently provides good waves throughout the year. The best waves are found at the southern end of the beach at a break known as "Stock Route", where right and left-hand tube rides are the order of the day. Makorori Point is a famous surf location. A right-hander breaks over a shallow reef system setting up a long sweeping ride that is a surfer's dream. Makarori Centre is slightly north of the Point and produces good right and left breaks that build up over reefs and sandbars.
Check today's surf conditions Gisborne Surf Report